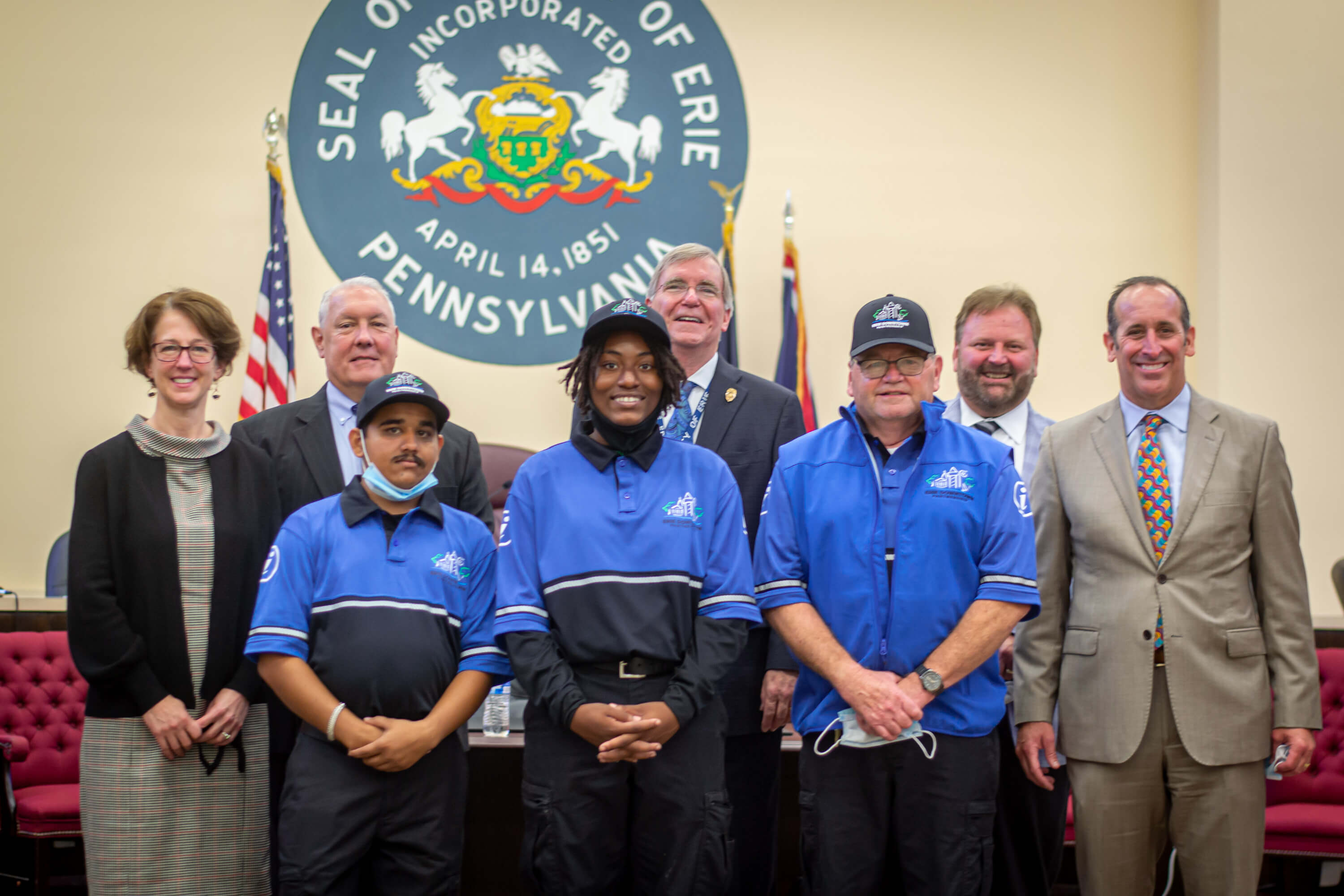 Erie Downtown Partnership announces the launch of the first Safety + Hospitality Ambassador program dedicated to place management services.
The initial pilot team of four ambassadors will provide cleaning services, visitor assistance, event support, and business outreach within the 70-block Downtown Improvement District, with a service footprint from the Bayfront to 14th Street and over from Holland to Sassafras Streets.
John Buchna, CEO with the Erie Downtown Partnership says, "This program is really about leveling up our cleaning services and offering business and guest assistance throughout the district to strengthen communication and proactively serve our members."
The ambassador program is managed on behalf of the Erie Downtown Partnership by StreetPlus, a nationally recognized program serving 100 Downtown Improvement Districts across the country.
The new pilot team of ambassadors will be supervised by John Yost, who's been the Erie Downtown Partnership's maintenance supervisor for the last four years and will transition to the Ambassador team as Program Supervisor. He will be responsible for overseeing the work of the three new team members.
WHY AMBASSADORS WORK
Ambassador programs are established in hundreds of communities across the state from Philadelphia to Pittsburgh and across the country from Cincinnati to San Diego. These programs have proven to alleviate quality of life issues such as crime, panhandling and loitering, assisting unhomed or vulnerable individuals as well as preventing blight and deterioration of the built environment.
Ambassadors are equipped with reporting and communications systems that allow for real-time interventions and response to the needs of stakeholders. Their observations and data can easily be shared with other key partners across many sectors from social services to government. This allows for better collaboration and informed decision making around issues that effect the quality of life and economic vitality of downtown.
This responsive mindset also minimizes the negative impacts of quality-of-life issues on businesses, who continue to recover from the pandemic.
AMBASSADOR SHIFTS
The ambassadors will work in two shifts with two team members working 6 AM to 2:30 PM Monday through Friday and two team members working noon to 8:30 PM Tuesday through Saturday.
The new shifts will help with routine coverage and assisting the needs of various downtown stakeholders. The evening and Friday/Saturday shifts will support visitors and guests who are downtown for entertainment and cultural events.
SAFETY
Ambassadors will have downtown routes to provide observations and interventions regarding the standard of care, cleanliness, existing and potential blight, safety hazards and areas of concern, as well as interacting with individuals in need or experiencing homelessness.
The team will continue cleaning duties as well as respond to service tickets such as graffiti removal, weeding and mulching, litter issues, and hazardous debris, or reporting vandalism.
The ambassadors are also collaborating with the City of Erie Police Department's Saturation Team, which includes downtown bike patrols and routes.
HOSPITALITY
Ambassadors will also interact with the public assisting visitors and guests with directions and recommendations, escorting visitors to businesses or venues, providing information, and engaging with businesses.
Event set-up and support is also a crucial service of the program as the Erie Downtown Partnership currently offers over 100 events ranging from wellness programs and a farmers' market to festivals and live entertainment.
FUNDERS FOR THE PROGRAM
The Safety + Hospitality Ambassador Program was made possible through the generous support of downtown businesses ERIEBANK and Marquette Savings Bank and the Erie Community Foundation.